"As an 

Amazon

 Influencer, I earn from qualifying purchases." 
WOW.   Which is a cool way to start an article, right?    But seriously we were so relieved to see high quality sports bras that don't cost and arm and a leg. Of course lululemon sports bras are nice but sometimes one doesn't have the budget or would rather spend the money on a few sports bras.  As such after so many Spin Instructors were showing off their cools sports bras we started to wake up.
Amazon in 2022 is now a great place to find high-end, good quality active wear such as sports bras.  Even more specific with record high inflation, things are getting more expensive, which leads to more people flocking to Amazon for high quality activewear.
To keep this short and sweet.  Let's just show you a few really cool ones that don't cost an arm and a leg.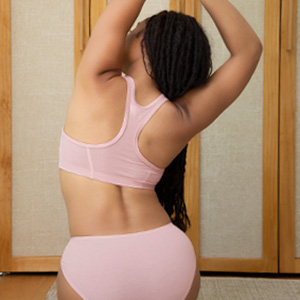 Check out these Fruit of the Loom Women's Spaghetti Strap Cotton Pullover Sports Bra
Fruit of the Loom has been one of America's most trusted brands for over 160 years. They promise to deliver high quality, affordable undergarments always. Their sport bras are a smart addition to anyone's wardrobe. Whether you're wearing it for leisure or for the gym, these bra keeps you supported while keeping a smooth appearance. An active lifestyle requires a brand that can give support and comfort.    Starts at 8 dollars.  Here is the Amazon link
Another best seller is the Match Womens Sports Bra Wire free Seamless Padded Racerback Yoga Bra for Workout Gym Activewear with Removable Pads.  All their products are made in their own factory. They are committed to making the best activewear.  The Match sports bras fit snugly, minimizing the movement of your breasts while giving you shape and lift.  To some they are the ideal sports bras for any active workout or all day wear. Then there is the plus of "Removable Pads".  Easy to put in and take out, you can change them easily. Hand washing and machine washing ( using laundry bags ) both available.  Another plus is the "Racerback Design." The Racerback sports bra provides extra support and brings along a firm, comfy fit.  And provide ventilation to keep cool and reduce stress. Allow for a wider range of motion without sacrificing comfort or functionality.  Another plus is the "Widen Shoulder Strap".  Extra width added to offer comfortable support around the body. Provide a close-to-body fit and prevent chest sagging.   One last cool feature is the "Full Coverage Design".   With moisture-wicking technology and 4-way stretch that offers great support and coverage with a cool, give you BUTTER-SOFT FEEL.  Start at 19.99. Here is the Amazon Link
One last popular best seller is the "Champion Women's Absolute Racerback Compression, T-Back, Smooth-Tec Performance Sports Bra"  For the high performance you need in a sports bra, look to Champion, the folks who invented the sports bra. This racerback compression sports bra offers all the support you need with comfortable chafe-free styling from the SmoothTec® under band. Even better, vapor technology wicks away moisture from skin to keep you cool and dry. The ultra-smooth fabric further reduces chafing. And the T-shaped racerback lets your skin breathe as you work out. This sleek performance sports bra is detailed with the Champion C Logo on the left chest and at the back band.  One reviewer wrote: "this sports bra is a great option if you're looking for something unpadded but modest. The material is thicker than other similar sports bras such as the Under Armour Mid Sports Bra and has a very slight ribbing texture that helps make up for no pads. Although the material is thicker, it doesn't retain heat. I personally find it cooler than the Lululemon Flow Y Bra during a jog! Moisture wicking is great for the price, but sweat can pool up just a little above the band during a hard workout"
Starting at 16 dollars.  Here is the Amazon Link
In closing.  We are glad that during this very intense and stressful inflation where everything cost more. From groceries, to GAS, to cars, etc, it is a relief that one can shop on Amazon for active wear and not lost their shirt, (or sports bra LOL)
"As an 

Amazon

 Influencer, I earn from qualifying purchases."