Harlem Cycle: The 1st and Only Boutique Indoor Cycling Studio in Harlem
Harlem, the cultural hub of Uptown Manhattan, is home to a long and rich history of artists, educators, athletes, and entertainers. From Duke Ellington and Billie Holiday to Thurgood Marshall, Maya Angelou, and Marcus Samuelsson, the spirit of the Harlem community has always embraced its most visionary thinkers. Add to that list,  Tammeca Rochester, former Marketing executive, turned entrepreneur who believed her neighborhood deserved a holistic approach to wellness. Just 2 years ago, on April 2, 2016 she set out to make history by opening Harlem's first and only fitness studio specializing in Indoor Cycling.  "Our focus has always been to create a supportive environment where you can have fun while pushing yourself physically all with the goal of getting back to being your best self," says Tammeca.  Over the past two years she's been able to not only provide amazing cycling classes, but has expanded the company's offering to include community wellness events geared at providing a holistic approach to wellness. Past events have included cycling, massage therapy, meditation, nutrition counseling and so much more. Check out the next community event on Saturday, April 21st where all proceeds from the event go to a Harlem based non-profit.
Unlike other cycling studios, Harlem Cycle—a minority owned and operated establishment—is committed to providing an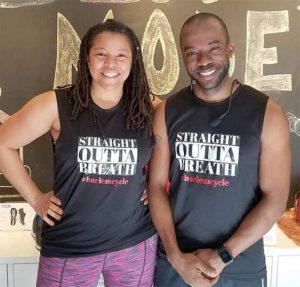 approachable, non-competitive, community environment. Harlem Cycle specializes in helping individuals improve their physical and mental well-being through detailed cardio sessions. Daily classes range from an ultimate 45 min conditioning ride to their signature 60 min or 80 min classes where clients are pushed through traditional cycling as well as off bike core and strength exercises. Located at 2350 Adam Clayton Powell Junior Boulevard, (137 & 138 streets) Harlem Cycle is open 7 days a week, from 6:30am-8:30PM. And at $25 per class offers the best get fit music covering genres from soul, reggae, salsa and hip hop.
Uptown residents deserve the very best in holistic health and fitness options. Now, with Harlem Cycle, they have them!
To learn more about Harlem Cycle, visit their website, http://www.harlem-cycle.com. To schedule an interview, take a spin class, contact Tammeca Rochester, Harlem Cycle, [email protected], 646-404-2891