MARCH 2022 UPDATE.  SADLY. THEY ARE CLOSED PERMANTLY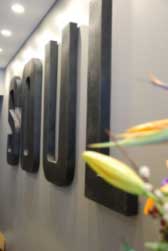 Soul Spin Studio in Calgary is a modern and well-appointed indoor cycling studio dedicated to providing the ultimate spin experience. All classes are choreographed to high-energy music and instructors lead participants through their personalized playlist designed to challenge and engage.
Soul Spin Studio offers a variety of class selections including 45 minute beginner classes, full 50 minute classes and spin & yoga combination classes. The studio also incorporates an upper body workout through the use of certain body movements and at least one dedicated free-weight track. Soul Spin Studio also has two fully developed yoga studios where they offer a variety of complementing fitness classes including their new Soul Circuit class that offer boot camp style full body cardio and interval training.
Second only to the highly trained and dedicated team of instructors, the most important feature of the
studio are the bikes themselves. Soul Spin Studio uses the Schwinn AC Performance Plus Cycles and according to Top Fitness Magazine is one of the best indoor bikes you can buy. The "AC" in the name of this bike stands for "Authentic Cycling" and refers to Schwinn's focus on creating an experience that mimics as closely as possible the feel of riding a bicycle outdoors on real roads. This authenticity was a key factor to the studio owners who wanted to ensure the most life-like experience they could for their customers.

Other features of the studio include state-of-the-art air control and circulation for ensuring the comfort of the riders – key to ensuring a good experience. All lighting, fan and sound control is at the fingertips of the instructor and all contributes to the fully customized class choreography. The studio is surrounded by an open and inviting front entrance, rubber floored staging area, lockers, spacious men and women's change rooms, filtered water fountain and cold lemongrass cloth fridges to cool down after a good workout. The spin studio is also affiliated with their sister company Soul Hot Yoga located in the same building. Certain spin/yoga packages are available for those wishing to balance their cardio workout with yoga. Contact or come visit us at:
Soul Spin Studio Inc.
226, 5126 – 126 Avenue SE
Calgary, Alberta
587-296-4141  ||  [email protected]  ||  www.soulspinstudio.com
FACEBOOK
https://www.facebook.com/SoulSpinStudioCALGARY
TWITTER
https://twitter.com/soulspinstudio
INSTAGRAM
http://instagram.com/soulspinstudio/
CLICK ON PICTURES BELOW TO SEE MORE